You are spending the night in your trusty horse trailer when all of a sudden the growling of a generator prevents you and everyone else around for miles from going to sleep.  As you lay in your rack trying to catch a wink, you wonder why people don't invest in one of the quietest horse trailer generators out there instead of keeping everyone awake listening to theirs.
When living quarters are involved in a horse trailer it will most likely be taken overnighting at some point and a generator will be a fantastic thing to use. However, noisy generators can be very annoying to the owner of the horrendous machine as well as everyone around. Inverter generators may be the answer to these problems and we will discuss a few of the quietest portable generators so you don't become THAT guy or gal.
How Inverter Generators Work
The inverter generator works in much the same way as your conventional generator, but inverter generators are more innovative and efficient. The video below offers a good explanation.
Honda explains, "… the generator's alternator produces high voltage multiphase AC power. The AC power is then converted to DC. Finally the DC power is converted back to AC by the inverter. The inverter also smoothes and cleans the power to make it high quality. A special microprocessor controls the entire process, as well as the speed of the engine" (2018).
Compared to their conventional counterparts, inverter generators have many advantages which include:
Inverter generators produce a more reliable and continuous flow of energy that mimics the energy from the outlets in your home.
Inverter generators are smaller and lighter than their conventional counterparts.  For example, a 2,500 watt conventional generator weighs 97 pounds and a 2,500 watt inverter generator weighs 43 pounds.
Compared to their conventional counterparts, inverter generators use up much less fuel to operate.  This is much easier on the pocket in the long run. Here is an image by Westinghouse that illustrates the difference.
Inverter Generators Are "Quiet"
A huge selling feature of inverter generators is their volume.  Compared to conventional generators, inverter generators purr like a kitten at 52 decibels instead of roaring like a lion at 74 decibels. Below is a video of a side by side comparison of the two types of generators.
That's a heck of a difference 🙂
Inverter generators have the amazing ability to combine their power.  So, when budget only allows one 2,000 watt generator, you can still achieve 4,000 watts later on by buying another 2,000 watt generator and parallel kit. Below is a video quickly demonstrating how to use two generators in a parallel setup.
Depending on your needs, you will need to look at what options will work for you and your situation.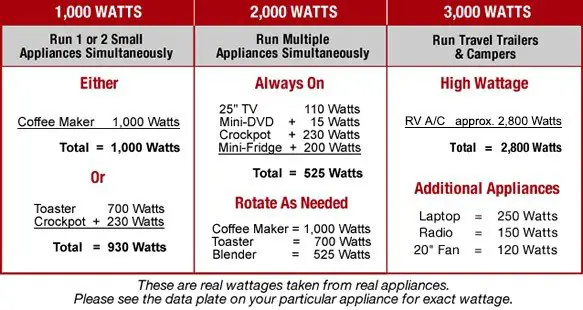 According to the above chart from electricgeneratorsdirect.com, most people will need at least a total of 3,000 watts from an inverter generator to run on their horse trailer.  Not having enough watts will result in insufficient power for all your appliances and devices.
Though there are many advantages to using an inverter generator, there are some disadvantages.  Because of their small size inverter generators have a smaller fuel capacity and they are more expensive than their conventional counterparts.
The prerequisites to using an inverter generator are no different than using a conventional generator.  All that is needed is fuel, an extension cord, and any adapters or parallel kit that you may need.
Portable Inverter Generator Reviews
The winner out of our list is the Westinghouse 2,200 watt inverted generator. It gives you the most bang for your buck with it's 13 hour fuel life, 3 year warranty, noise level of 52 decibels, and light weight of 43 pounds.  It may only put out 1,800 running watts, but you can add another generator if you need to support a larger load. Overall though, this is a great little generator that can tackle your needs.