Started my day heading for my weekly coffee clutch with the boys. Every day has its learning experiences and this was no different.
While moving along the highway at 70 mph there was a truck and trailer just ahead of me.  All of a sudden I noticed the back end of the trailer seemed to lift and swerve to the left.  Being familiar with trailers and my instinct I realized the trailer had come off the ball on the truck.  I immediately slowed and fortunately the driver was aware enough and the truck heavy enough to stabilize everything and brought them to a safe stop. 
This truck and trailer belonged to a business and most likely the driver hauled trailers a lot of the time but still someone made a mistake by not double checking his hitch setup before he left.
We all spend a lot of time on the highways and see every kind of car, suv or truck pulling an assortment of different trailers and I often wonder if the hookups, hitches and braking systems
on all of these rigs are safe? This mornings experience answered that question……NO!
Make Sure To Sweat The Details
We are all capable of making mistakes but, a mistake when hitching up our trailer puts not only ourselves but our horses and other people on the road at risk.  Many times we are running late, in a hurry, or distracted talking with someone or numerous other things. 
Many businesses have a check off sheet their drivers are required to do everyday before driving.  This check off list should also be something we do as it is our responsibility to be safe for everyone on the road.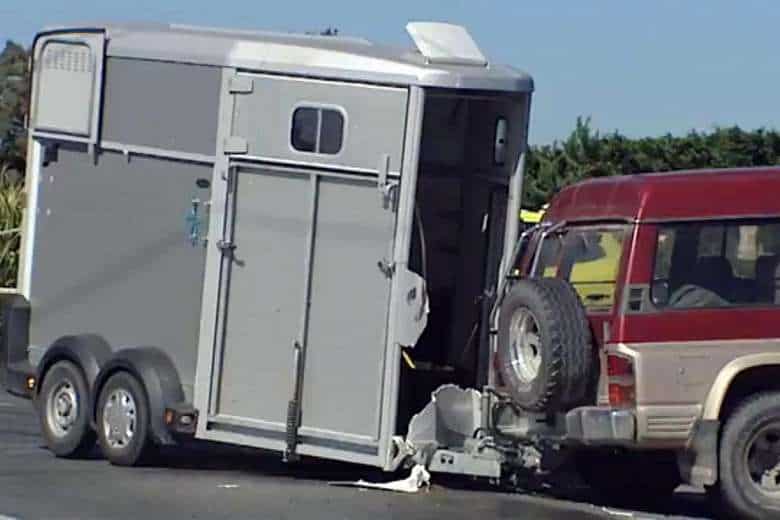 Check your brake system.  You do that by adjusting the brake box in the cab.  The trailer brakes should take hold just a little before your vehicle brakes. Otherwise the trailer will have a tendency to push you around. 
Also check your safety cable.  Pull it apart and try moving the trailer.  If the wheels are locked its working.  The cable will pull out hard and it can rust so by pulling it out several times a year it stays clean and in working condition
Got Anything Electrical? Check That Also
If your system has a battery, make sure it is charged up at all times.  In some systems the battery will charge off the vehicle when the wire cables are hooked up.  Otherwise remove the battery and make sure it is fully charged.
All sliding and moving parts on your ball hitch should be lubricated and free.  Lubricate the ball itself to keep from wearing.  Lube the jack so it turns free and make sure all bolts are tight.
Check your safety chains so they don't drag on the road and become worn.  Twisting the chain will take up slack but make sure when turning corners they remain free.
The Rubber Meets The Road
Check the condition of your tires. Tires blowing out can rip up your trailer fenders and result in accidents.  It only takes a few minutes to check and double check your hookups and can save a lifetime of misery.