Purchasing a trailer and towing-vehicle is expensive; no one will dispute that! Is renting a horse trailer cheaper, or is it a costly short-term Band-aid? What are the costs involved? How do you find a reputable dealer to rent a horse trailer and ensure it's the best trailer to safely transport your horse?
Horse trailer rentals range between $59 per day for a two-berth bumper hitch trailer to $120 per day for a three-berth gooseneck hitch trailer with tack storage space. The price of rental typically includes a refundable cleaning fee. Companies offer discounted rates for longer duration rentals.
Renting a horse trailer is a headache that most horse owners prefer to avoid. The process of renting a trailer can be hazardous and the cost fairly steep. When considering the economy of rental, it is essential to look at all factors that will affect your decision. These factors will relate not just to the monetary cost of the rental but also to how you rate the importance of limitations imposed on you by the rental company.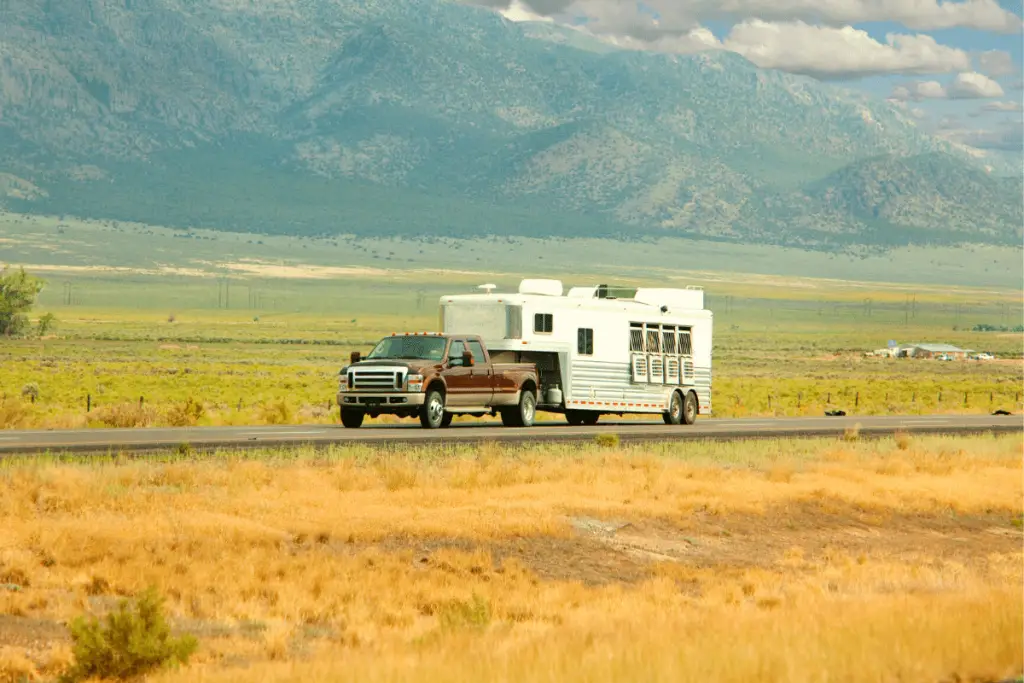 How Is a Horse Transported or Moved? 
Moving horses always carries an element of risk. Whether the horse is ridden or led in-hand to its new location or transported in a horse trailer, there is still a chance that something could go wrong. Horses are true masters at living up to Murphy's law; if it can go wrong, it will go wrong!
Accidents involving your horse are costly and emotionally devastating. Thus, it's essential when renting a trailer; you consider both the monetary cost of using the trailer and your horse's safety. In the long run, it may be cheaper to pay a higher rent for a better trailer and ensure your horse's safety and comfort.
The Advantages Of Renting Before Buying – Rent to Test 
Renting a trailer has the added advantage of allowing you to "test out" different models and choose your favorite if you plan to buy a trailer in the future. Suppose you plan to buy a trailer and towing vehicle in the future but can't afford the initial investment. In that case, you could spread the pain of making such an expensive purchase and first get a towing vehicle. It will be easier on your purse if you initially use your truck to pull a rented trailer giving you time to save up for a trailer.
Cheapest Rental Option = Borrowing A Horse Trailer
Borrowing a trailer from a friendly neighbor may be the cheapest option, it comes with potential hazards. Usually, the trailer owner will require you to pay the fuel cost. While both buying and renting horse trailers are covered by strict contracts outlining each party's responsibilities and payments, borrowing a trailer from a friend or family member does not come with this luxury. Who is responsible for paying for repairs if your horse damages the horse trailer?
Most horse trailer owners are highly protective of their vehicles. They will not allow another person to tow their horse trailer. Allowing another person to haul your horse can create issues. Few non-professionals will drive with the same care for your horse as you would do. It is all too easy for these situations to lead to hard feelings on both sides when using someone else's box, especially if you have a close personal relationship with that someone!
Finding And Investigating A Horse Trailer Rental
The easiest ways to find horse trailer rental companies are through online searches. Talking to local horse owners, stable yards, and feed and tack stores are invaluable resources for guiding you to reputable companies or private owners offering horse trailer rental services. Yellow Pages, Craigslist, and Gumtree may also prove useful in your quest for finding a possible rental.
It is essential when phoning rental companies to ensure they have valid business licenses. The companies should be willing to offer you the names and numbers of previous clients to contact and confirm the company's reputation.
Trailer-rental insurance is considered specialty insurance and differs significantly from car-rental insurance. Ensure the company has comprehensive insurance coverage for collisions. Read the fine print! You can be made to pay for any damage your horse does to the horse trailer.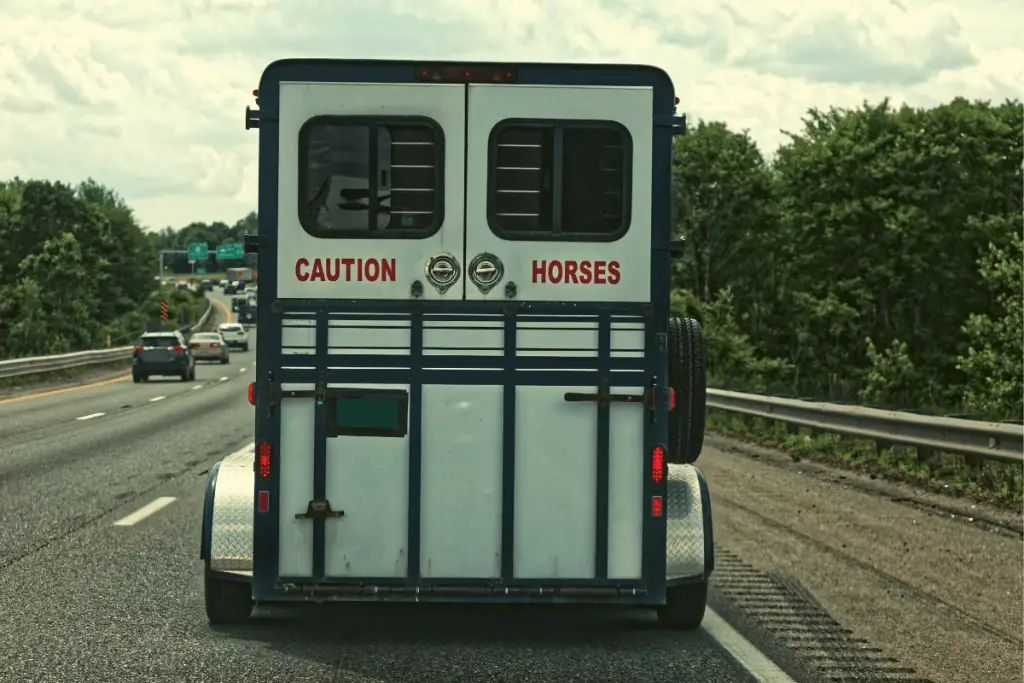 Factors Affecting Horse Trailer Rental Prices
Horse trailer rental prices will be affected by the following:
The type and model of the horse trailer you want
The location of trailer rental service, e.g., just like homes or vacations can be more or less expensive depending on the area, the cost of horse trailer rentals can also vary by location.
The specific day, i.e., different days, are charged differently depending on how the demand for the horse trailer. Quiet weekdays will often be cheaper than the weekends when many shows transport their horses to competitions.
The length of the rental period will also affect the price. Some companies will offer discounted rates if you commit to a more extended rental period.
In this article, we look at three rental companies to provide an example of horse trailer rentals and the associated prices.
Hitchin Post – Newberg, Oregon
The Hitchin Post offers a single type of trailer for rental, a three-berth trailer with a front tack room, and a 3000-pound weight limit. They do not provide tow vehicle rental. The daily rental ranges from $119/day to $129/day, depending on the day(s) on which the trailer is used.
This rental price includes a $40 refundable cleaning deposit, which will be returned to you if the trailer is in the same condition you received it in. The fee also includes a $20 adjustable ball hitch. If the ball hitch is unneeded, the ball hitch's price will be deducted from the rental price.
Leonard Truck & Trailer – North Jackson, Ohio
Leonard Truck and Trailer offer two main types of horse trailers for rental, larger gooseneck trailers and smaller bumper hitch trailers. The larger gooseneck trailers are approximately $20 more expensive per day and $100 more expensive per month than the smaller two-berth bumper hitch trailers. The gooseneck trailers have the added advantage of storage room for your horse's tack and equipment.
The longer you rent the trailer for the more economical it is. The larger trailer's daily rental is $109.95 but is charged at a rate of $42,91 per day for the entire month's rental. That more than 60% lower per day! Sharing a month's rental is an excellent option for friends who want to have a grand road adventure with their horses.
Coast to Coast Trailers – Ocala, Florida
Unlike the other two trailer rental companies featured, Coast to Coast Trailers does not change the price based on the day or length of time you rent the horse trailer. They charge a basic daily rate with applicable taxes that do not change whether you rent the box on a Monday (quiet day) or Sunday (busy competition day).
Nor does the price change based on which model of trailer you decide to rent. Coast to Coast Trailers has three types of trailers available for rent; two models of two-berth bumper hitch trailers with different loading options and one three-berth gooseneck trailer.
Comparison of Horse Trailer Rental Prices For The Three Featured Companies 
| | | | | | |
| --- | --- | --- | --- | --- | --- |
| Company | Trailer Type | Daily | Weekend | Weekly | Monthly |
| Hitchin Post | 3-berth Straight Load Bumper-hitch | $59 | $69 | $149 – $159 | By Special Arrangement |
| Leonard Trailers | 2020 Sundowner 3-berth Slant Gooseneck | $109.95 | $219.90 | $455.78 | $1287.34 |
| Leonard Trailers | 2020 Valley Trailer, 2-berth Bumper-hitch | $89.95 | $179.90 | $395.78 | $1187.34 |
| Coast To Coast Trailers | 2015 Sundowner Charter 2-berth Straight Load Bumper-hitch | $119.00 | $238.00 | $595.00 | $3570.00 |
| Coast To Coast Trailers | 2016 Sundowner Stock 2-berth Straight Load with double rear doors Bumper-hitch | $119.00 | $238.00 | $595.00 | $3570.00 |
| Coast To Coast Trailers | 2008 Sundowner 3-berth Slant Load Gooseneck  | $119.00 | $238.00 | $595.00 | $3570.00 |
Conclusion
Horse trailer rental prices will vary based on the size, model, and year of the rental, the location of the rental services, the day(s), and the duration of the rental. Smaller horse trailers rented on a quiet weekday will be cheaper than larger horse trailers rented on busy weekends. Horse trailer rental varies between $59 to $120 per day but may fall as low as $40 per day if you rent the horse trailer for an entire month.
It's crucial to phone around when looking for a horse trailer rental. Ensure that the rental company is reputable with excellent safety standards. Even if the company is the more expensive option, it will be worth it to ensure your horse's safety.